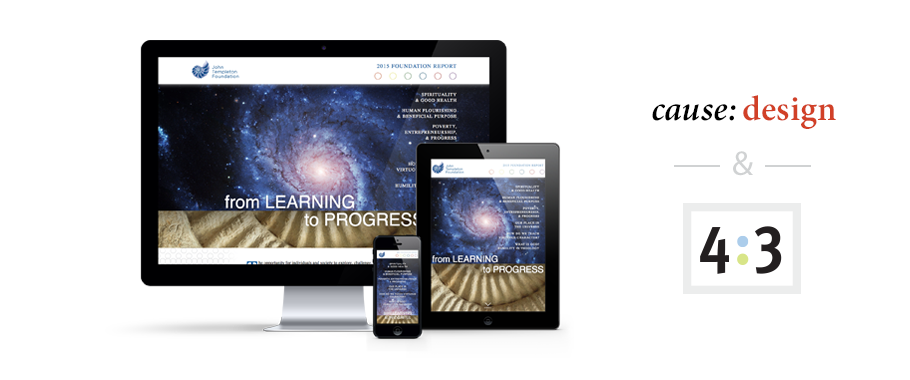 4x3 partnered with Cause Design on a web design project and proposal for our client, The John Templeton Foundation. The professional relationship between the two studios has allowed for us to create a user-friendly, beautiful, and functional site that showcased the Templeton Foundation's annual report in a streamlined, beautiful way. 
As the technology partner, 4x3 works directly with Cause Design from the beginning of each project, to determine the scope, define the site architecture, and consult on functionality. Cause Design provides creative solutions, and 4x3 takes the lead on the programming and development. For the John Templeton Foundation's 2015 annual report, 4x3 created a user-friendly web experience that organized information in a legible, structured way.
"I trust 4x3 with my web development projects because of their commitment to being good partners, who are as invested in the creative vision as I am. My clients and I have been impressed by their expertise, but more importantly, their friendly attitude and flexibility, which is a rare combination."
Rodd Whitney | Owner | Cause Design
ABOUT CAUSE DESIGN
Cause Design Company was founded by creative director Rodd Whitney, and lives by the principles that commitment to collaboration and exceptionally creative design is key.
Cause Design is a full-service creative company, delivering senior-level market research, brand strategy and positioning, marketing communication strategy, copywriting, photography and video production services through a network of like-minded individuals who share our strategic mindset and creative standards.
Visit the Cause Design website »
ABOUT JOHN TEMPLETON FOUNDATION
The John Templeton Foundation serves as a philanthropic catalyst for discoveries relating to the deepest and most perplexing questions facing humankind, in the spirit of its founder, John Templeton.
The foundation provides academic grants, research support, and an annual award to an innovator in the field of scientific discovery. Through the organization's efforts, the John Templeton Foundation has been able to contribute major discoveries in fields of scientific investigation, prayer, gratitude, immortality, and imagination.