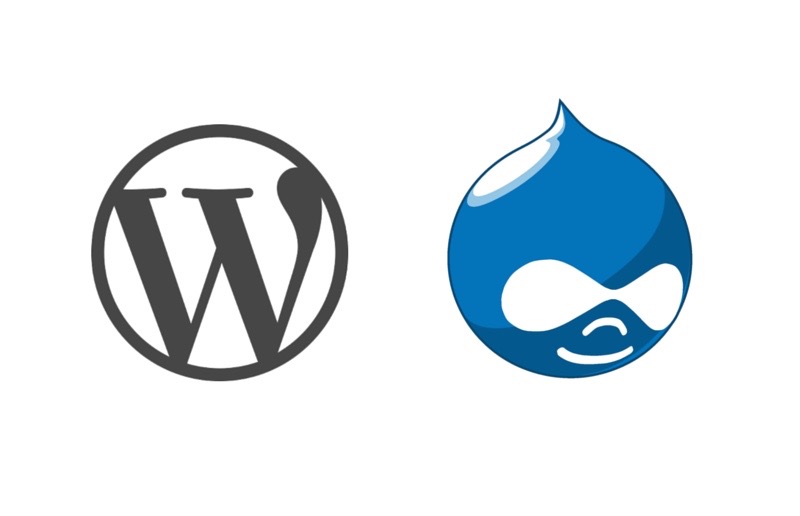 If you're in the market for a professional, custom website, chances are you're considering Wordpress or Drupal as a CMS platform. Both are well-known and widely popular, and the right one for you may depend on the features and functionality you require, as well as the user interface you prefer. 
Wordpress and Drupal have important things in common. Both are browser-based content management systems, making them accessible from any computer or mobile device. Neither requires special software to use. Both are intuitive and easy to learn as a day-to-day website editing tool, yet offer many customization features (plug-ins and modules) allowing for a website to incorporate as many features as you require. 
Wordpress and Drupal are also updated frequently and are known for addressing security issues and "keeping up with the Jonses" when it comes to the latest website design trends. 
Why Wordpress?
Wordpress has the advantage of familiarity — it's the CMS people are most likely to have used already. The Wordpress website platform looks and feels the same as the popular free Wordpress blogging platform. Building out the website architecture on the basis of the blogging interface makes Wordpress easy to use as well as customizable.  
Wordpress tools make inserting ads and setting up sites for e-commerce a cinch, and with the addition of a plugin like the All-in-One SEO pack, it's easy for those without a lot of SEO experience to stick to best SEO practices. 
If Wordpress were a food, it would be pizza—it started out simple, popular and reliably good, and eventually had lots of nice things added to it to the point where it could come in lots of varieties and even be considered gourmet. 
One thing to remember about WordPress is that, unlike the basic blogging packages, most website elements cost money. From premium themes to pro-versions of popular plugins, building a topnotch WordPress site can add up. 
Why Drupal?
Drupal's reputation as the primo Web content management system is well-earned. Most of the biggest and best websites you see on the Web are more than likely built in Drupal. Why? It's an endlessly adaptable and sophisticated CMS, constantly being improved by users around the globe. 
Drupal, you see, is open source—in other words, it can be freely used, changed and shared by developers. Open source can make for a dizzying array of choices and variations, but it means your website features are always truly cutting edge. 
Techies love Drupal because they can customize a website to do exactly what they need it to do—no fitting square pegs in round holes. There is a Drupal module for just about anything you could imagine. Looking to add games and quizzes? Need a microsite? Want to try cool things like parallax scrolling? Drupal is right there with you. 
While no CMS in the world is 100% foolproof or immune to hacking, Drupal is very secure and stable. And because it's not owned by a central conglomerate, there's no risk of a feature being yanked from the market or modified in a way you don't like. 
Editing in Drupal happens right on the page, unlike Wordpress, in which everything is approached from a separate portal. This makes it easy to find and modify any element of a website. Basic content editing is easy and intuitive, and lots of SEO-friendly features are built right into the back end.
As you may have guessed by now, Drupal is not meant to be a prepackaged "out of the box" solution. Because of this, more complex actions—such as setting up and maintaining e-commerce, updating ads and modifying site architecture—are more complicated than in WordPress. 
If Drupal were a food, it would be gumbo—worked on and refined by lots and lots of skilled cooks over time to become the delicious staple it is today, with lots of styles to choose from.  
The Right CMS For You
The right CMS for you depends on your specific needs, both now and down the road. How varied and adaptable do you need your site to be? What is the primary goal of your site? How many people will be using it? These are some of the questions you will want to ask when talking with a web developer about the best website solution for you.