You are here
We Created Three Viral Headlines, and Frankly, We Were Surprised So Many Women Liked #2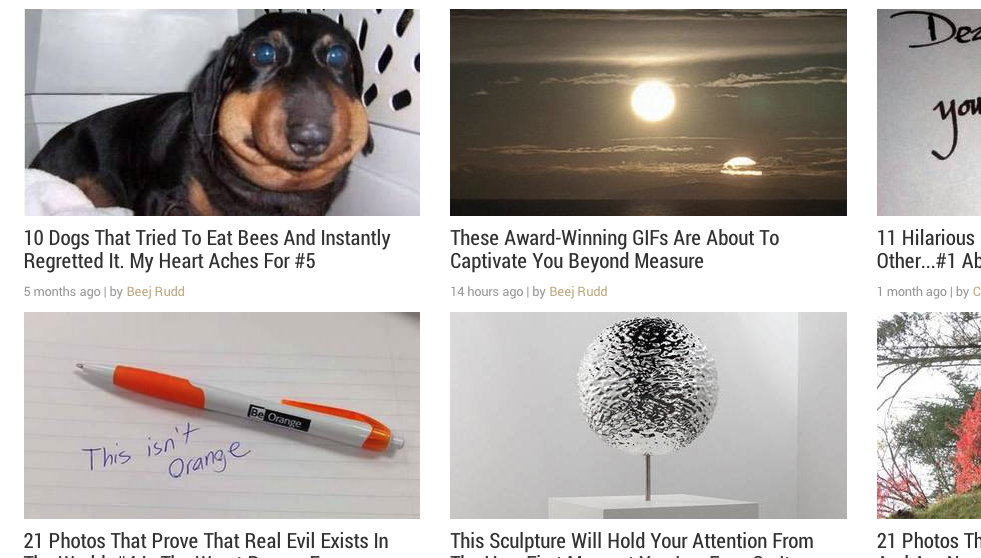 The New Yorker magazine published a fascinating article last month about Emerson Spartz, the 27-year old Chicagoan who has made millions repackaging content to gain clicks on Facebook using viral headlines. 
Spartz's business model is entirely data driven. Content on his websites—Dose, Lolbrary, Unfriendable, and many others—use attention-grabbing headlines or photos to get clicks and shares from news feed scrollers. His main site, Dose, employs an algorithm that tracks the success of many different headlines created for the same piece of content. The headline attracting the most clicks eventually wins out over all the others. 
Viral headlines: Insane, hilarious, awesome…
Using this system of zeroing in on the most "click-baity" headline, a Dose post can gain several hundred thousand page views a day. The winning headlines tend to promise a huge "wow" factor. Some recent examples: "18 Haircuts That Are All Too Much. #11 Why Would You Do That?!," "21 Of The Absolutely Most Insane Things That Have Ever Happened On Tumblr," "You'll Never Believe That This Food Is Illegal In Berlin."
Writing a viral headline
I decided to try this approach out for myself. Using a story published on the BBC about a controversial beer can depicting Gandhi, I wrote three click-baity headlines and promoted them on our Facebook page. For each version of the post, we set a budget of $5 and "boosted" it on Facebook. The three posts were exactly alike except for the headline, were sent to the same targeted audience, were boosted at the same time and for the same duration (two days). At the end of the boost period, we checked how many "actions" (clicking, liking, sharing or commenting) each version of the post got.
Here are the viral headlines:
I Would Not Have Believed This Beer Could Anger a Whole Nation
The Beer Label that Shocked and Angered a Nation
Do You Find This Beer Can Offensive? Many People Do 
And here are the results:
10 Actions: 9 link clicks and 1 page like.
72 Actions: 

66 link clicks and 6 post likes. (THE WINNER)

53 Actions: 49 link clicks, 2 post likes, 1 share and 1 comment.
Interestingly, headline #3, which suggested a reaction, inspired the most heated response (a comment, like and share from a person who seemingly took offense at the idea that they should be offended).
A surprising gender gap 
Also interesting is the gender breakdown. In the case of #1 and #3, the overwhelming majority of those taking action were men—96.2% for #3, and 90% for #1. Women took a lot more interest in #2 (the winner), making up 20.8% percent of those taking action.
See next week's blog for more insights into using viral headlines. The process of boosting these headlines was also a real learning experience—see more about this in a future blog.