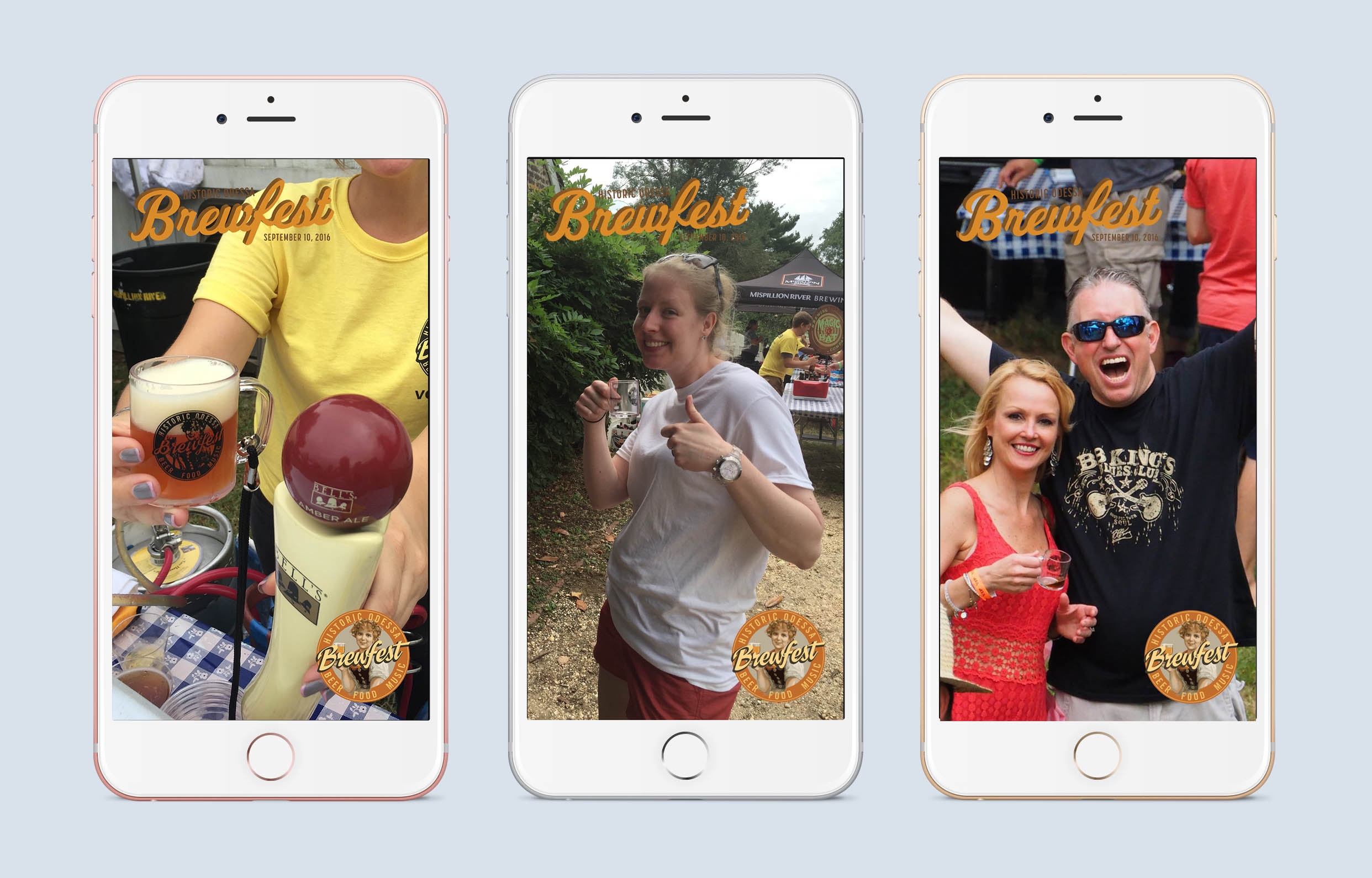 As 4x3's newest employee, I have quickly learned that 4x3 is always trying to improve its services for its clients. 
This is immediately evident with 4x3's most recent venture: Snapchat Geofilters.
What is a Geofilter? 
Honestly, if you don't know just ask your son or daughter to show you. But just in case they are not readily on hand, I'll let you in on the secret.
Essentially, a Snapchat Geofilter is a special image overlay on the app that signifies the "where" and "when" of a location or event. 
For example, 4x3 designed a Geofilter for the annual Odessa Brewfest. The custom Geofilter appeared during the festival and allowed anyone who attended the event to use the filter on Snapchat. Everyone shared snaps with their friends using the filter to celebrate their favorite craft beer and to commemorate being at the event. At the end of the day, there was a total of 3,000 uses and views!
Overall, it's a great way to have customers promote your products and events for you! 
You got it now? Great!
Why Snapchat?
If you didn't already know, Snapchat has 18 billion daily users! That's like 9,000 snaps per second! Which means Snapchat has surpassed Facebook in number of daily video views. 
With predominantly young Snapchat audiences, this social platform is perfect for social media marketing towards teens and Millennials. Visually strong brands - such as beauty, fashion, and sportswear - lead the way in terms of Snapchat adoption. But that doesn't mean you can't too! With very few small business and brands taking the step to use Geofilters, the market is under-saturated. 
So that makes Snapchat a great marketing opportunity.
And it's cheap too! Snapchat only charges $5 per 20,000 square feet where the filter can be used. And the marketing you get from users basically pays for itself. Geofilters make it easier for your audience to engage and promote your product or brand organically. 
From an event and location-based marketing perspective, Geofilters are the future of marketing.