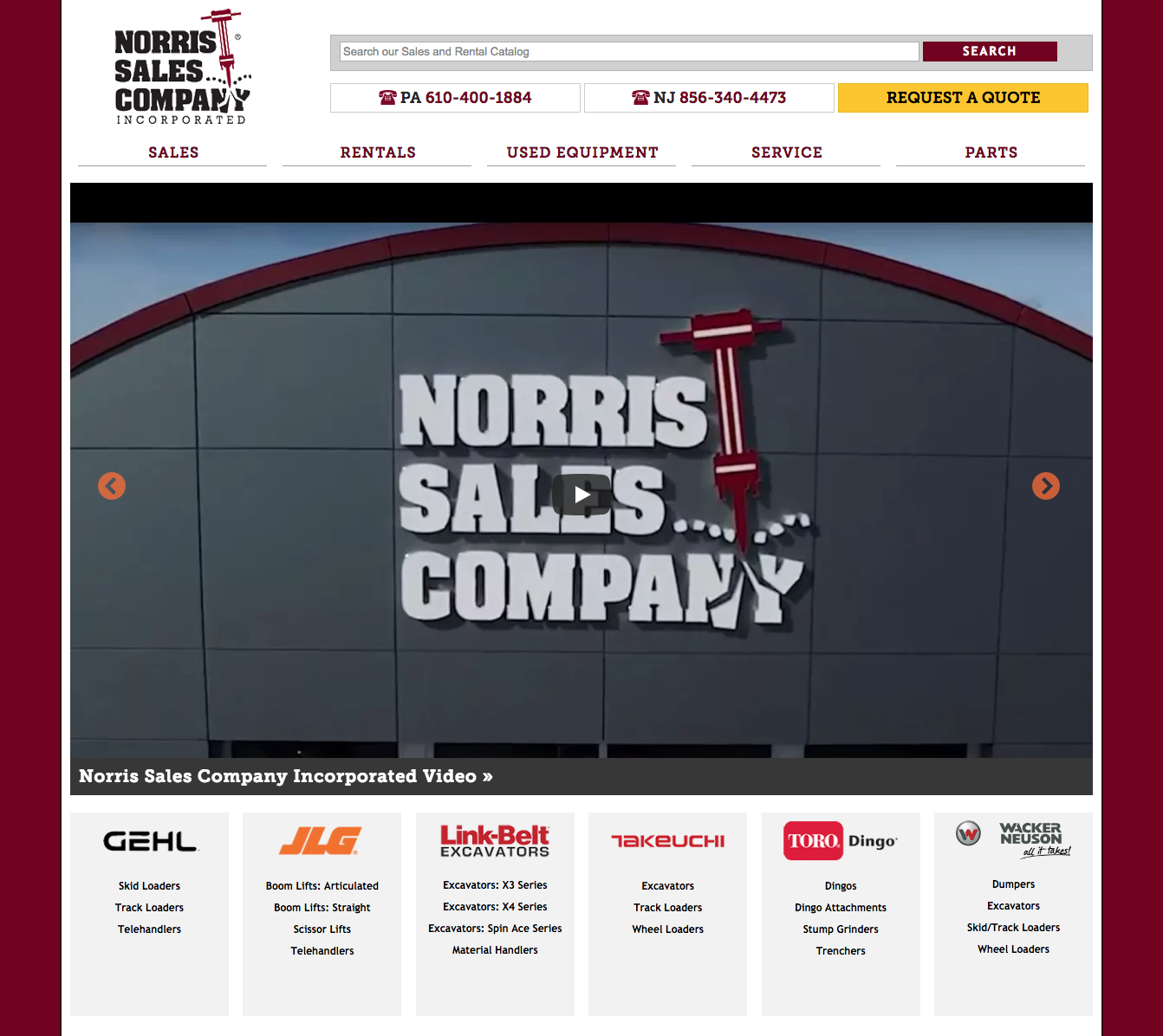 As part of a web design consultation with our client, Norris Sales Company Inc., 4x3 has upgraded their homepage to better fit the overall responsive design of the website. 
While the homepage isn't considered the #1 landing page anymore, it is (hands down!) the most visited page on your whole website; because even if someone does not directly land on your homepage when first visiting the site, their first instinct is to click on the homepage after viewing the initial content which caught their attention.
Your homepage is like a storefront window -- a showcase of your best content easily available for any possible window shoppers. As such, if it isn't visually appealing or informative, then chances are visitors will quickly move on.
Out with the Old, In with the New
Norris Sales saw that their homepage was, statistically, a very high exit page. So, after consulting with 4x3, they decided that a redesign for a simplistic, yet informative homepage was needed. 4x3 helped Norris Sales identify what they wanted to highlight on the homepage and what could be removed. The new homepage design selected the best elements to feature Norris Sales' identity and mission, including:
new navigation menu
latest news slider
wider break point
featured manufacturers
redesigned super footer
Being primarily a heavy equipment dealer, Norris Sales wanted to shift focus from individual products to their most popular manufacturers; moving toward broader categories allowed for greater involvement. Visual elements also became a center-piece; highlighting the latest news stories, store locations, and featured equipment. Also by implementing a wider break point and simplified navigation, Norris Sales was able to move away from a cluttered homepage to a more open web design.
About Norris Sales
Norris Sales Company has been providing best in class construction products and service to Philadelphia and its surrounding suburbs since 1956. Norris Sales has recently expanded to a new headquarters in Conshohocken, PA and opened a second sales and rental location in Sicklerville, NJ. 
Their knowledgeable staff and two centralized locations allow Norris Sales to provide top notch service to all of their customers throughout the rental, sales, service or training process.