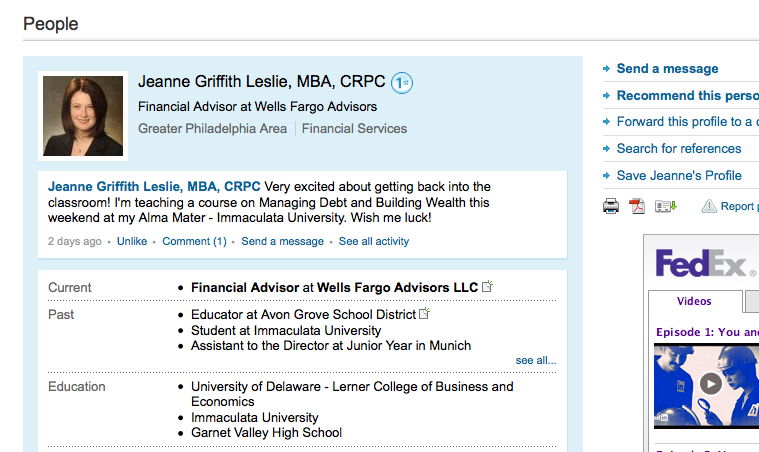 This is the fourth in a five part series on social networking and your website. LinkedIn touts itself as the 'professional network'.
#4 A LinkedIn Account
Jeanne Griffith Leslie, MBA, CRPC is my financial adviser. She's also my niece ... so we chat all the time ... not always about money. As a matter of fact, the financial talk doesn't last all that long. I have three children five and under so financial conversations are about mortgage and car payments and grocery bills and how much money we've saved now that we're finished with baby food, formula and only have one left in diapers. I know we're supposed to be talking about retirement planning and the kids college fund ... it'll just have to wait a year or two. So I mention my niece because she works at a firm that doesn't allow her to Tweet or check her Facebook account at work. This is certainly the norm in many mid-size to large companies. So how can you really get into the social networking game if this is the case? LinkedIn is the professional social network of choice. If you're working for a firm - in most cases - you're going to be allowed to use the network. It used to be that if you saw someone updating their LinkedIn page, you knew they were 'looking'. But these days the smart ones are using LinkedIn to track prospects and keep in touch of the professional lives of their friends, peers, colleagues and even competitors. Let's stay with my niece, who's doing a great job by the way of 'working' LinkedIn. Because she works for a firm, she has setup a personal account and linked her present job listing to her present employer's business page. She's also been very thorough about listing her employment history and her associations, awards and her education history. Because she's done this properly, LinkedIn will periodically suggest friends and associates for her from her woking connections and schooling.
As she continues to build connections, Jeanne can add those new relationships to her professional linkedIn account.
Like Facebook, LinkedIn now has business pages. If you run your own business, you want to make sure to create a business page, upload a logo and write a comprehensive description of your business. And yes, get all of your employees to create a LinkedIn account and connect to your business page.
So, here we go ... just follow the steps and you'll have a page for yourself and, if applicable, your business in minutes ... or STOP RIGHT HERE ... and send me and email me: siano@4x3.net and I'll do it for you.
Create a LinkedIn Page for Yourself and Your Business
I opened a new window for you.
Step 1.1: Follow my Page.
Click the button the right side of the page: its the Follow button. This isn't really a step ... just another shameless 4x3 self promotion. After all that is the purpose of all this. You want to get people to Follow your page - follow your business and then purchase your products and/or services. Your clients benefit from your products and services and you make a profit ... Step 0.5: Clearly you may have discovered - if you weren't signed up for LinkedIn already - that you have to have an account before you can follow a business.
Step 2: Sign Up for a LinkedIn account.
Go to www.linkedin.com - you'll see the 'Join LinkedIn Today' quick form ... fill it out: name, email password - click the 'Join Now' button. You'll then be asked to confirm your account through your email.
Step 3: You're In.
Please try not to be overwhelmed by the amount of information you can fill in ... just get in the game and you are on your way. We'll talk more in another segment about the nuances of 'what, how, when and where' to make your LinkedIn experience work for you.