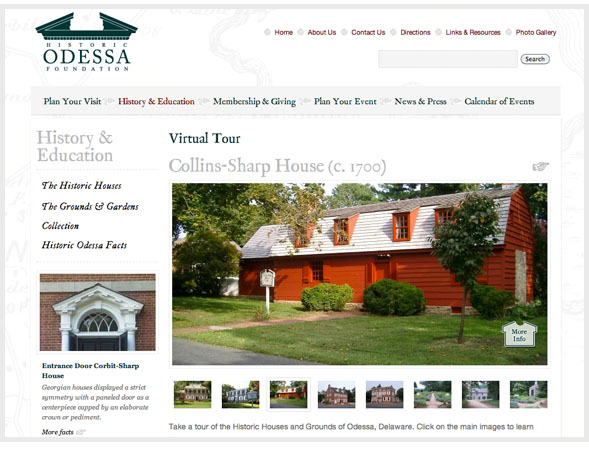 4x3 designed a dynamic site for the Historic Odessa Foundation that showcases the historical beauty of this uniquely preserved colonial town and its unique museum collection.
One of the website's nicest features is the Virtual Tour. This feature allows a user to explore the grounds at Historic Odessa and learn more information, while planning their next trip.
Custom Drupal CMS
By implementing a custom Drupal content management system, the employees at Odessa can easily upload new images, create news and events, and edit the content on each page. The usability of the CMS has been critical in allowing Historic Odessa to keep visitors up to date with the daily happenings of the Foundation.
With a busy Fall approaching, Historic Odessa Foundation used their site's scheduling program to organize the coming month's events in a clear and informative way. That's just one of the benefits your company will have by using a custom Drupal content management system from 4x3.
Visit our Portfolio to read more about the Historic Odessa Foundation Website »
The digital world is changing quickly, 4x3 can bring your company up to speed. Whether its a brand overhaul you're looking for, or help managing your social networking sites, 4x3 has the tools and capabilities to give your company the web presence it needs.