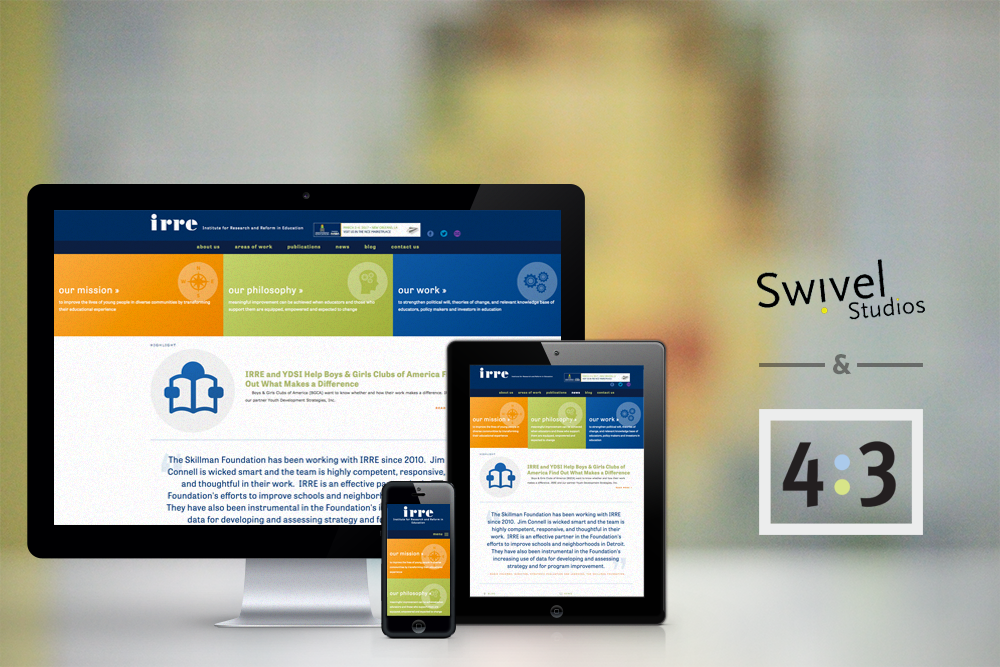 4x3 has partnered with SwivelStudios on many web design projects and proposals. The professional relationship between the two studios has allowed for us to create several beautiful and functional sites. 
As the technology partner, 4x3 works directly with Swivel from the beginning of each project, to determine the scope, define the site architecture, and consult on functionality. Swivel always delivers creative solutions, and 4x3 takes the lead on the programming and development. Specializing in dynamic, content-rich websites, 4x3 and Swivel partnered to create sites for Clear Sound Inc., the Institute for Research and Reform in Education (IRRE), and Penn's Center for Neuroengineering & Therapeutics.
"When seeking quality tech/design/development partner, you take a risk when seeking the right fit for the scope of work at hand.  We hit a home run every time SwivelStudios partners with 4x3. Their team possess just the right mix of design savvy and current tech trend development skills." - Heide Fraley, Creative Director, Swivel Studios
Clear Sound Inc.
Clear Sound Inc. is Philadelphia's premier video, audio and lighting firm. Since 1976, Philadelphia-area institutions, event planners and houses of worship have turned to Clear Sound for all sound and event production needs; including venues like the Upper Darby Performing Arts Center and UPenn's Franklin Field.
4x3 worked closely with SwivelStudios to create a completely custom Drupal CMS website for Clear Sound. The CMS is extremely user-friendly and completely responsive in design, assuring the site looks equally great on all screen sizes and devices.
Institute for Research and Reform in Education
The IRRE was founded in 1989 with a mission to improve the lives of young people in diverse communities by transforming their educational experience.
4x3 and SwivelStudios teamed up to create IRRE's custom website back in 2010. The site featured a simple, yet functional design that highlighted IRRE's mission and work. Then, in 2015, the IRRE reached out to 4x3 for a site refresh to handle all the content published on the website. 4x3 developed a sleek new site incorporating the best features of the Drupal 7 platform including responsive design and search optimization. The design makes the large amount of content featured on the site easier to navigate.
Center for Neuroengineering and Therapeutics
Penn's Center for Neuroengineering and Therapeutics researchers focus on engineering devices to help scientists and doctors better understand what happens within the brain's communication networks. They use this knowledge to help improve medical management and to develop brain-computer interfaces that can restore neural networks and improve function.
To better communicate their important research, CNT looked to 4x3 and Swivel Studios to create a responsive, user-friendly, easy-to-update website on a Drupal platform. 4x3's programming brought the responsive design concepts to life.
About SwivelStudios
SwivelStudios is a small graphic design studio just outside Philadelphia. They specialize in creating fantastic print collateral, custom web interface design, and branding and identity campaigns. SwivelStudios prides itself on creating quality and unique design communications that make an impact and are delivered on time.