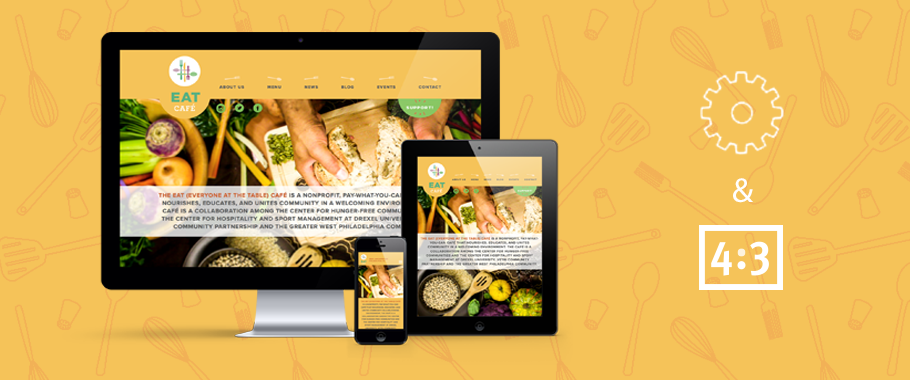 The EAT (Everyone At the Table) Café is a non-profit, pay-what-you-can restaurant that nourishes, educates, and unites the community. 
Located in West Philadelphia, the EAT Café provides a welcoming space to nourish the community through good food and fellowship. The custom designed website perfectly reflects the welcoming nature of the restaurant while effectively organizing the various activities, events, and educational programming the EAT Café provides.
The Design and Development
4x3 worked closely with SK Designworks to develop this beautiful website for both EAT Café and their affiliate, The Center for Hunger-Free Communities (CHFC). 
"Designing the EAT Café site was fun working with illustrations and hand-drawn touches to real-life photo images. 4x3 understood our vision and carried it through seamlessly."
Soonduk Krebs | Art Director | SK Designworks
As the technology partner, 4x3 collaborated with SK Designworks to flawlessly incorporate all aspects of the site, including the ever-changing menus, graphics, and news about the café and the initiative behind it.
ABOUT SK DESIGNWORKS
SK Designworks is a full-service graphic design firm located in Center City, Philadelphia.
The studio, led by Soonduk Krebs, views each project as a unique creative opportunity and does not try to impose a set style or "look" upon their work. SK Designworks' portfolio features a wide range of projects performed for a diverse group of clients, including Rowan University, The John Templeton Foundation, W.S. Cumby, Inc. and SEPTA. 
Visit SK Designworks website »
Support EAT Café 
The restaurant's ongoing operating costs must be met through café operations, grants and funding, and in-kind support. 4x3 supports EAT Café by offering free web hosting.
Learn more about how you can support the EAT Café at eatcafe.org.