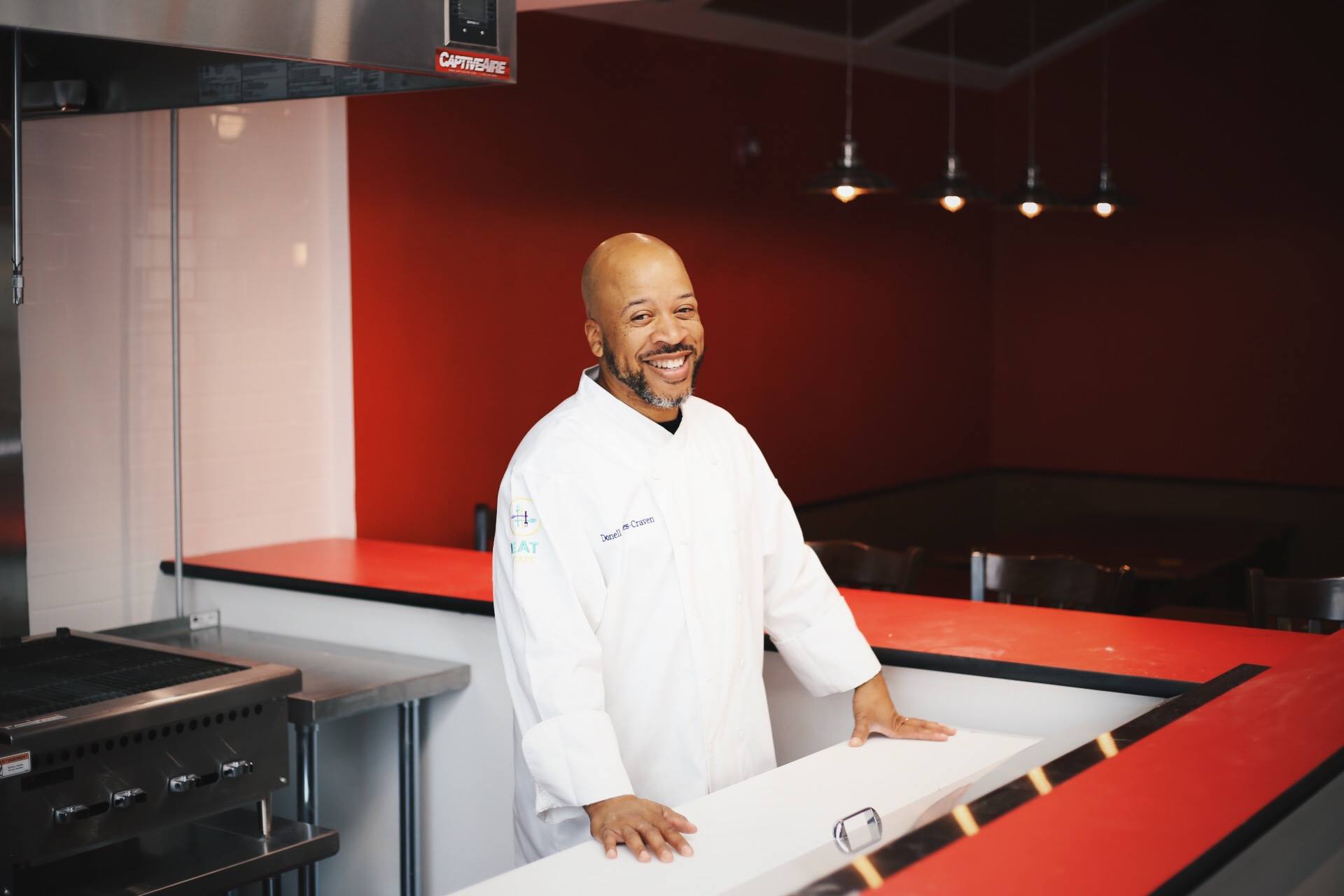 On October 26, Philadelphia's first nonprofit, pay-what-you-can restaurant opened for business! And for the many Philadelphians who cannot afford a quality meal, EAT Café is a step toward hungry-free communities.
Everyone at the Table
​EAT Café - which stands for "Everyone at the Table" - is a partnership among a collection of groups including Drexel's Center for Hunger-Free Communities, Drexel's Center for Hospitality & Sport Management, and the Vetri Community Partnership.
EAT Café's central goal is to help ease the food insecurity that impacts nearly one in four Philadelphians, while helping to bring the community together.
Pay-What-You-Can
Diners coming to the EAT Café will be given a menu with a suggested price. At the end of their meal, a check will be delivered and each can choose what they pay – the full amount, more, less or nothing at all.
​EAT Café will serve dinner every Wednesday–Saturday from 4:30–8 p.m. All are welcome to dine at the community table and pay what they are able to for dinner. Donnell Jones-Craven (pictured) is acting as general manager and head chef at the café, which was created to nourish, educate and unite the community.'
In an interview with Business Insider, Donnell Jones-Craven said, "I want people to have the opportunity to fulfill each other's need for community — real community, and share experiences, embrace differences and have dignity and respect amongst all. The truth is we all need each other."
Support EAT Café
EAT Café's ongoing operating costs must be met through our café operations, additional grants and other funding, and in-kind support. There are many ways you can make a contribution to support our work and mission. 
Dine - by coming to the café for a meal, you are providing critical support to the restaurant and the community.
Donate - either in-person or online financial donations allows EAT Café to help offset the cost of someone else's meal.
Volunteer - as a non-profit, EAT Café always needs volunteers to help with everything from community outreach to special event staffing.
Any donations to support EAT Café directly benefit the community and the fight against hunger in Philadelphia.
4x3 supports EAT Café by offering free web hosting. We worked with our partner SK Designworks to create an organized expandable website for both EAT Café and their partner, The Center for Hunger-Free Communities (CHFC).