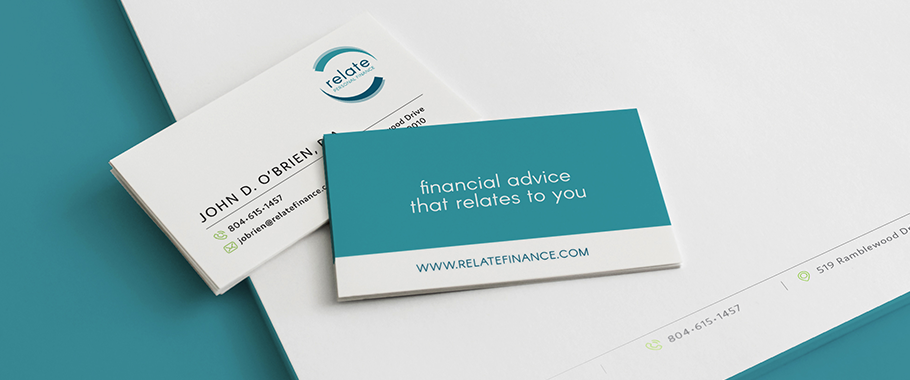 4x3 provides comprehensive print design solutions including identity packages, brochures, post cards and invitations. We also go beyond traditional print design, expanding our services to beautiful and distinctive banners, custom apparel and promotional merchandise for conferences, festivals and special events.
Working with Relate Personal Finance
Relate Personal Finance is a full-service financial planning firm that offers advice on the right investments and savings for all their clients, no matter the income level. In addition to designing the Relate Personal Finance website, 4x3 also had the pleasure of creating a complete branded identity package for Relate Personal Finance which included digital and print letterheads, professionally designed business cards, and custom envelopes.
"In the beginning of this process, I approached several vendors with an overall concept for a new financial advisory business looking for help with a logo and branding. The decision to go with 4x3 was the right one. Amy and Stephen came up with some great logo options and from there they have laid the foundation for a brand that is just what I am looking for..."
- John O'Brien | Founder & Chief Advisor 
View Relate's Branding and Logo »
Working with Local Businesses
In the age of digital media, 4x3 offers print design services that seamlessly incorporate with your business' cross-platform marketing initiatives. Our years of branding and event marketing expertise has equipped us to create the right fit for your small or local business. At 4x3, we give you customized and personalized branding packages that go above and beyond standard business card services. We use quality printing, a keen eye for design, and an assurance that our work is the best for you.