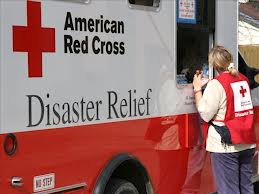 The devastation of Hurricane Sandy continues to be felt by our neighbors in New Jersey and New York. Our thoughts and prayers go out to those who have been impacted by the storm and encourage all to help do what we can to ease their suffering.
American National Red Cross
The Red Cross continues to focus on reaching as many people as possible who need our help. We can support the relief efforts by donating to the Red Cross, whose top priority is getting supplies and meals and water into affected areas.
Financial donations make the greatest and most immediate impact, helping the Red Cross provide shelter, food, emotional support and other assistance to those affected by disasters like Hurricane Sandy. You can donate online at redcross.org/hurricane-sandy ; by phone at 1-800-RED CROSS (733-2767) or make a $10 donation by text-messaging the word REDCROSS to 90999
The American National Red Cross is registered as a 501(c)(3) non-profit organization. Contributions to the American National Red Cross are tax-deductible to the extent permitted by law. The Red Cross' tax identification number is 53-0196605.