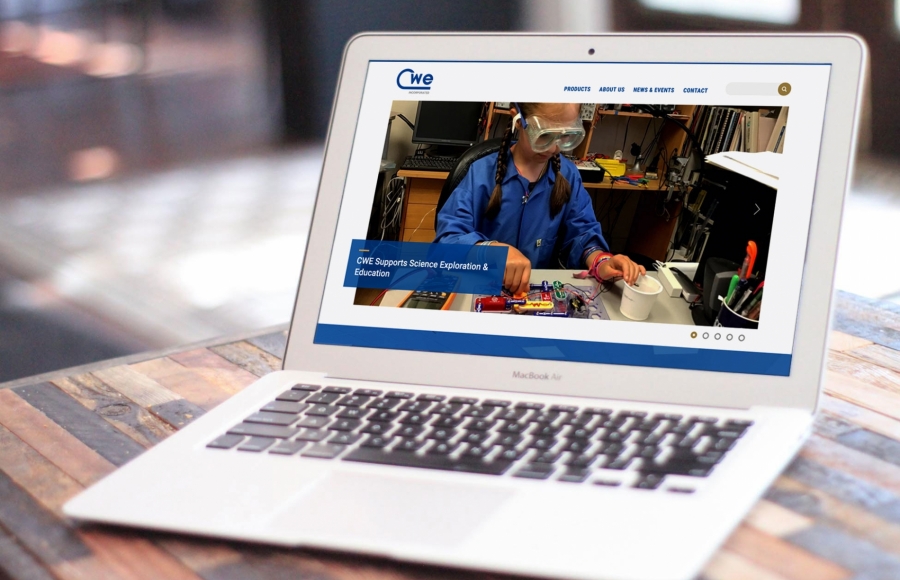 4x3 is proud to announce the completion and launching of the CWE Scientific Instrument website. 
Developing an Organized, Content-Rich Website
CWE approached 4x3 to do a complete website makeover to help organize their extensive product line in a eye-catching and user-friendly design. The CWE website required an organized way to manage scientific instruments in a way that reflects an extensive online product catalog. 
4x3 was up for the challenge!
The main goal was to create an easily-searchable database that cross-references products, specifications, tech manuals, and equipment accessories. With this in mind, 4x3 created a custom, fully functional site to manage content in a SEO-friendly and organized manner.
Due to the heavily content oriented aspect of the website, a high level or organization needed to be applied during the development process. We worked closely the CWE team to create a detailed site map to guarantee a simple layout and easily navigated internal pages. This level organization was implemented in every step of development. 
"It was a big project, but 4x3 delivered, giving us a highly functional, beautifully designed new website and a fresh brand image. It was a collaborative project and we couldn't be happier with both the process and the outcome.  Our customer satisfaction has increased because our product lines and accessories are easier to navigate thanks to the well-organized structure that 4x3 created..." 
Hilary Ward | Vice President Marketing & Sales | CWE Inc
4x3 developed the website in Drupal, creating an inviting, user-friendly website that integrated custom Drupal modules and navigation tools to enhance the functionality of the site. As such, the site can be managed without any high-level programming expertise while remaining while fully incorporating responsive web design. 
ABOUT CWE
CWE offers a broad range of instruments for the physiology and pre-clinical research laboratory. With their origins in control of breathing instrumentation, CWE specializes in respiratory support and monitoring, including ventilators, gas analyzers, and related equipment.
Family owned and operated for 35 years, CWE keeps it personal. They'll listen to your needs and collaborate with you to find the perfect system in the fields of control of breathing, respiration, and physiology.
Years of Experience in Web Development
4x3 has been developing websites since it was founded. As an integral part of our web design process, 4x3 implements thoughtful web development during all phases or building and programming (or reprogramming) a website; including Drupal, eCommerce, and custom CMS.