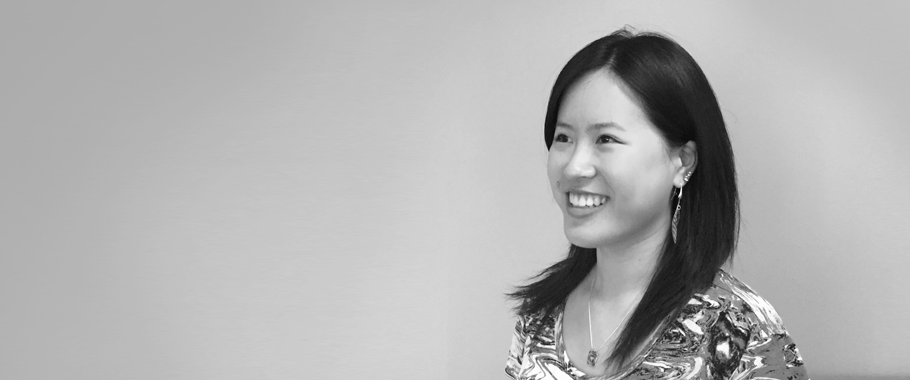 We at 4x3 are proud of our internship program, which pays a stipend to talented college students and recent design school graduates at the same time it gives them valuable real-world experience. 
4x3 is a signatory to the AIGA Philadelphia Paid Internship Pledge, an initiative encouraging local employers to offer fair compensation to design students. 
Our interns have gone on to successful careers in design, landing jobs locally as well as in New York, Washington D.C. and other locales. 
This spring 4x3 welcomed Shuchang Jin, a rising senior at Temple University's Tyler School of Art. Shuchang jumped in with both feet and proved equal to the task of taking on meaningful design work from the get-go, including redesigning an informational packet on behalf of one of our clients, Friends for Friends.
We asked Shuchang how she feels about 4x3 and her experience so far.  
What first got you interested in graphic design?
I became interested in design after visiting Tyler School of Art, Temple University. I was interested in art but didn't know what I wanted to do yet. I only knew that I wanted to do something computer related since I prefer the digital platform. 
But after seeing all the work displayed from different majors in Tyler, the graphic design work simply blew me away. I definitely could see myself doing that. 
What is your favorite aspect of design work? What element/s of design do you hope to pursue as a career?
I think that my favorite aspect of design work is definitely design thinking. It also really makes me think of the way visual elements tell stories. I love both print and interactive designs, so in my future career I hope I can find a balance between the two. 
Why did you decide to work at 4x3?
I really wanted to learn about UI design in a place where I can actually participate. I didn't want to be stuck in a huge place where the intern just does nothing except for coffee runs... also never being able to actually meet with the Creative Director since the intern is just always neglected. I wanted to participate in a design firm where I can get projects and know what is actually going on. 4x3 definitely seems to be the perfect fit.
4x3 also does paid internships, which is really important because it puts value in design.
How has working at 4x3 helped you understand the Web design and graphic design business better?
Working at 4x3 really helped me understand Web design better since I am able to update and monitor websites by using Drupal. I also learn by watching the designer working with Drupal and CSS. 
I also learned about the business of design since listening to client conversations helps me understand what clients are looking for, as well as pricing. 
Has anything surprised you about the internship? 
I was surprised that I didn't have to make any coffee or go on coffee runs. Since those seemed to be the most important job of the typical intern. I was able to do actual design work all the time. 
What's your favorite part of the internship so far?
My favorite part of the internship is definitely working on the Friends for Friends welcoming set. I like having a whole project to myself. I also like having a glance into the real world of design by coming in almost every day of the week, which is helping me learn a lot about how different design is from school. 
Why is it important to have a paid internship? What does it tell you about how 4x3 values your talents?
I think a paid internship puts value in design. Since most people really undervalue design and think that you should just design logos or posters for free (or $5), and art is something that you do for fun. I think most unpaid internships just result in the intern not doing anything but just "shadowing" over the workers, which doesn't help learning at all.