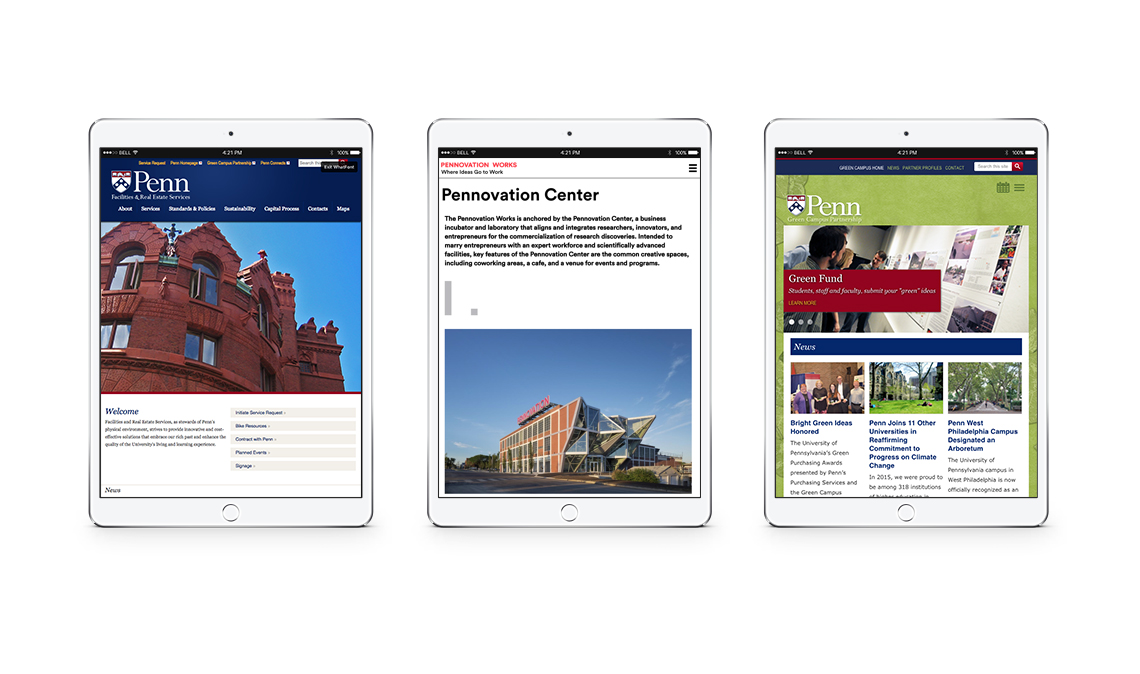 4x3 is proud of the relationship we've developed over the years with the University of Pennsylvania. As a prestigious Ivy League university, Penn is nationally ranked for its academic centers and student research programs.
4x3 manages three websites for the educational non-profit the University of Pennsylvania: Penn Facilities, Penn Sustainability, and Pennovation Works.
Penn Facilities and Real Estate Services
Back in 2013, 4x3 worked with the Facilities and Real Estate Services (FRES) team at Penn to redesign and redevelop their university online presence. The project included a complete site redesign to align with Penn's new Web template standards.
Due to the content-rich nature of the website, we worked to incorporate Drupal modules to aid in simple navigation and organization of the websites, for both administrators, students, and visitors. The upgrade also included an inclusive Google Maps API V3 campus map and a custom programed, fully integrated campus-wide Cosign login system. 
Penn Green Campus Partnership 
4x3 is honored to be involved with Penn Green Campus Partnership to build a culture of sustainability on Penn's campus. Since 2013 we have been working with Penn Green Campus, as part of Penn Facilities, to help coordinate programs and initiatives for a more sustainable campus.
More recently, in 2016, we redesigned the website to be fully responsive on all devices and reprogrammed a Drupal powered CMS.
Pennovation Works
In 2016, 4x3 was called on to reprogram and manage the new Pennovation Works Drupal website for the University of Pennsylvania.
With a fully customized PHP site, we integrated Drupal modules to ease the burden of managing and updating the website. 
Trust your university website with 4x3
Educational websites are meant to answer every possible question and provide support to past, current, and prospective students. And just like a business's website can say a lot about the company, so can the website of a college or university.
With 4x3's award-winning content management system can easily allow your institution to be built around hundreds of different pages. 
We provide designs that have a clear typographic structure and image focused, content-rich layouts that perfectly represents your school and its academic mission. Our designs get to the root of user experience design while also maintaining a consumable method of organized page content.